As you may or may not be aware, a hurricane swept along the Eastern United States, which is where Majik lives. As such, he has been without power since Monday and so Episode 73 will be delayed until such time as he has power restored and our schedules allow for it. This could be as late as next week.
We do apologize for the delay, but hey, definitely take this opportunity to write to us at podcast (at) blessingoffrost.com and ask your questions and send us your comments all for our MOLL-E section!
You can also check out a photo Maj sent me of a some power lines near where he's currently staying…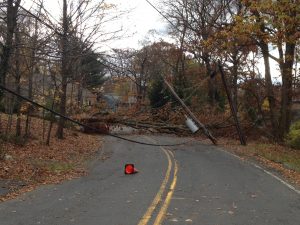 As always, thanks for your patience! We hope to get Episode 73 out to you soon!