Right smack dab in the middle of recording Episode 33 of Blessing of Frost, I saw this on my Twitter feed: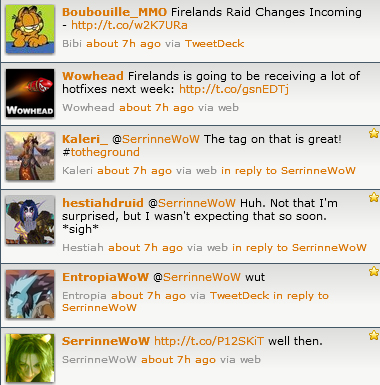 And so Majik and I decided to talk about the upcoming Firelands nerfs in this week's episode.

Episode 33 - Blessing of Frost - Nerdraging About Nerfs:
Play Now
|
Play in Popup
|
Download
With the final showdown against Deathwing approaching, we've been keeping a close eye on players' progress through the current Firelands raid content. Before patch 4.3 is released, we want groups who are working on Heroic-difficulty content to be able to get as close to Ragnaros as possible, and we want players who are tackling normal progression to be able to experience as many of the encounters as they can. To achieve these goals, we'll be toning down the difficulty of both normal and Heroic raids through hotfixes in the coming weeks. In general, we plan to reduce health and damage of all raid bosses in both normal and Heroic Firelands by around the same percentage we brought difficulty down for the original Cataclysm raids when Rage of the Firelands (patch 4.2) was released.

We're looking forward to seeing more groups of players face off against the firelord in the weeks ahead. However, before we make these changes, we want to give everyone a final shot at the bosses at their current difficulty level — so this is a heads up that we're planning to apply the difficulty hotfixes beginning the week of September 19.

Stay tuned to the Patch 4.2 Hotfixes blog for these and other live updates to the game as they happen.
What do you think about the nerfs? Let us know at podcast [at] blessingoffrost.com or vote in our poll:
[polldaddy poll=5499266]
Apotheosis is looking for a TANK, check us out at http://www.apotheosis-now.com/main/!
Choice of Skywall is looking for HEALERS and some DPS, check them out at http://www.choiceguild.com/!
Follow Majik and me on Twitter, along with our guild: @Majjity, @kurnmogh and @ApotheosisET
And please rate us up on iTunes! If you give us a review and a high rating, we'll read your name and comment out on the show in the Shout-outs section! Four stars will get you a shout-out from Majik, five-stars gets you one from me!
Don't forget, we're still accepting bumpers for the show, hit us up at podcast [at] blessingoffrost.com and if we like 'em, we'll use them in the show!
Save