In this episode of Blessing of Frost, Majik and Kurn discuss their bucket lists for Cataclysm, as well as various bloggers' bucket lists.

Episode 56 - Blessing of Frost - Kicking the Bucket List:
Play Now
|
Play in Popup
|
Download
Don't forget to vote in the poll to name the awesome #sadmoose that Kamilla crocheted for Kurn! Voting ends at 11:59pm ET on Saturday, March 31st.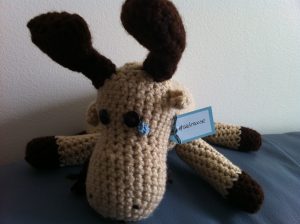 Various Bucket List posts around the blogosphere:
MMO Melting Pot's Round-up
Cynwise's Field Notes
Achievement's Ahoy
Tree Heals go Whoosh
Revive and Rejuvenate
Some last-minute hotfixes came out after we'd finished recording the podcast.
Don't forget to follow us on Twitter: @kurnmogh and @Majjity for us and then @ApotheosisET for our guild (apotheosis-now.com!). Please rate us up on iTunes and leave us a review for a shoutout!
Save