5.0.4 hit on August 28th and changed the game significantly. In this episode, we chat with Amowrath of the blog Light's Wrath and the guild Undying Resolution (US-Elune).

Episode 69 - Blessing of Frost - 5.0 Fallout:
Play Now
|
Play in Popup
|
Download
Herald of the Titans link at Wowhead
And this is Majik's terrible healing UI from the first time Apotheosis killed Doomwalker and Kazzak…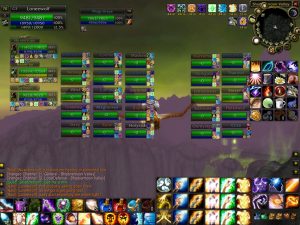 Kurn's shoutout for the week is to Rho (@RhoWoW) of the Realm Maintenance podcast! Check it out at http://www.realm-maintenance.com!
Of course, check out Amowrath on Twitter as well, @AmoHeals and on his blog, Light's Wrath!
As always, please rate us up on iTunes and shower us with love in your review — and you get a shoutout on the podcast in return.
Don't forget to follow us on Twitter: @kurnmogh and @Majjity for us and then @ApotheosisET for our guild (apotheosis-now.com – seeking a shadow priest, a hunter, a moonkin and an ele shaman for Mists of Pandaria raiding!).
Save