Firelands is finally behind us, the Hour of Twilight is at hand! As usual, Majik and Kurn share their take on the new patch, although be warned that what they think is interesting about your class PROBABLY ISN'T, so go check out the actual patch notes!
We also did a livestream of the recording process, which meant that we got to interact with some awesome people in the chatroom while we did the show. Keep an eye on Twitter, we'll announce if we're livestreaming next week. If we are, here's the URL: http://www.livestream.com/majikpugs

Episode 43 - Blessing of Frost - The Dragon Soul Patch:
Play Now
|
Play in Popup
|
Download
ACTUAL Patch 4.3 notes:
http://us.battle.net/wow/en/blog/3964563/Hour_of_Twilight_Patch_43_Notes-11_29_2011
The Daily Blink on Symbiosis: http://www.thedailyblink.com/2011/11/the-new-abilities-symbiosis/
And now, the poll about Majik's next character to level:
[polldaddy poll=5711797]
And Alfimi sent us A SAD MOOSE. BRILLIANT.
AND, a last-minute submission from Alfimi gives us our very own SAD PANDA!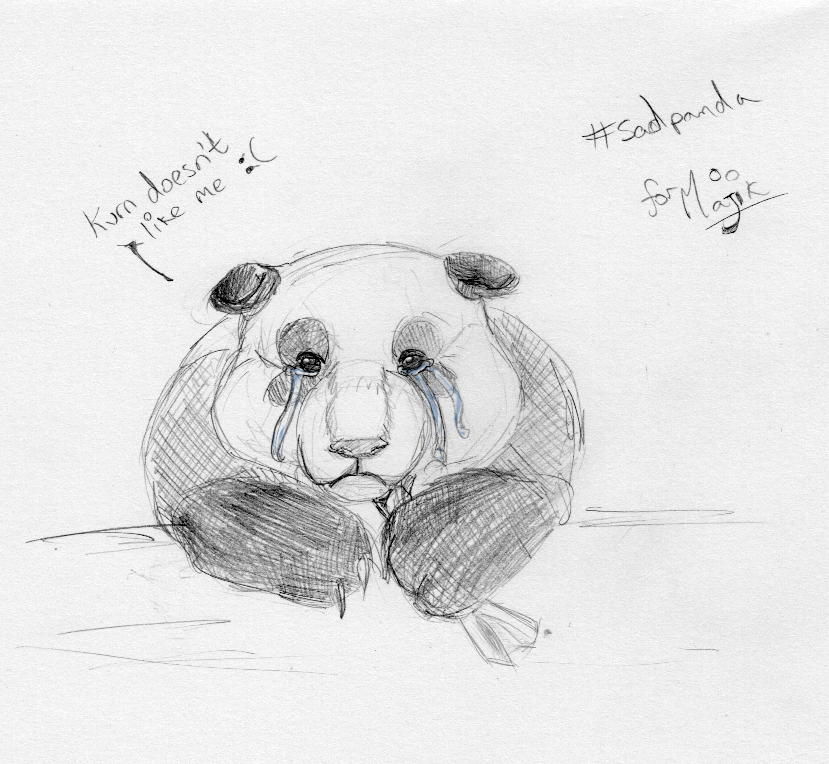 Alfimi, you are amazing and we love you. Thank you so much!!
Kurn's 4.3 blog post about holy paladin changes: http://kurn.apotheosis-now.com/?p=2129
Are you a ret paladin? Looking for a guild? Check out our guild, Apotheosis! http://www.apotheosis-now.com/main/
The old WoW Cartography maps that Kurn would spend hours gazing at:
http://wow.incgamers.com/wiki/Eastern_Kingdom_All_Flight_Paths
http://wow.incgamers.com/wiki/Kalimdor_Map_All_Flight_Paths
Kurn will be on the Twisted Nether Blogcast on Saturday, December 3rd, at 11pm ET/8pm PT: http://www.twistednether.net/
THE TWEETOFF!
Tweet either of us (@kurnmogh, @majjity) with:
#sadmooseftw
OR
#kurngoingret
Kurn will randomly pick a #sadmooseftw person and Majik will randomly pick a #kurngoingret person. The two of us will then have a Magicka duel and whoever wins the duel, will have their randomly selected person win a FREE COPY of the game Magicka.
Speaking of Twitter, thanks to the following people for chiming in about what they're most looking forward to in 4.3:
@stoppableforce: Transmogrification, pretty much hands-down my most anticipated feature.
@mageic: looking forward to new stuff, just feeling a bit stale currently, so new things to do will be fun
@matticus: New raid content. Done with Firelands.
@psynister: The new DMF and reduced exp requirements to get through OL/NR.
@BeruHeals: MOAR BOSSES TO BLOODLUST!
@Velystia: Transmog, new dungeons, new raid… a reason to log in again. 🙂
@MathiasSchnell: The Fangs of The Father questline and rewards! 😀
@DuridJaymz: Looking forward to… hmmm… Actual "difficulty" and "choice" in the feral rotation!!!
@hestiahdruid: Transmogging gear, and kicking Deathing's ass.
@kenakabones: 4.3 – transmog, new 5 mans *they're fun* and dragon soul!
@Kamilla_of_ET: my wings!!! I can't wait to have my wings again hehee 🙂 yay for T6!
Please do follow us on Twitter as well! @kurnmogh and @Majjity for us and then @ApotheosisET for our guild.
Also, please rate us up on iTunes and leave us a review for a shoutout!
Save