Another holiday is upon us and, yet again, Kurn and Majik tackle the various achievements related to the holidays. Of course, shortly after recording the episode, Wowhead came out with a guide that shows that the holiday has changed to remove the majority of the randomness from it!
But we still cover the holiday fairly well anyway. 😉

Episode 38 - Blessing of Frost - Happy Hallow's End!:
Play Now
|
Play in Popup
|
Download
Some links and images:
From October 18th, 2007 (!), Toga, Tia (as Tweetybird) and Kurn (as Madrana) take down the Headless Horseman!
And afterwards, in Shattrath, with Toga on his fancy new broom, Tia as a leper gnome and all of us with pumpkinheads: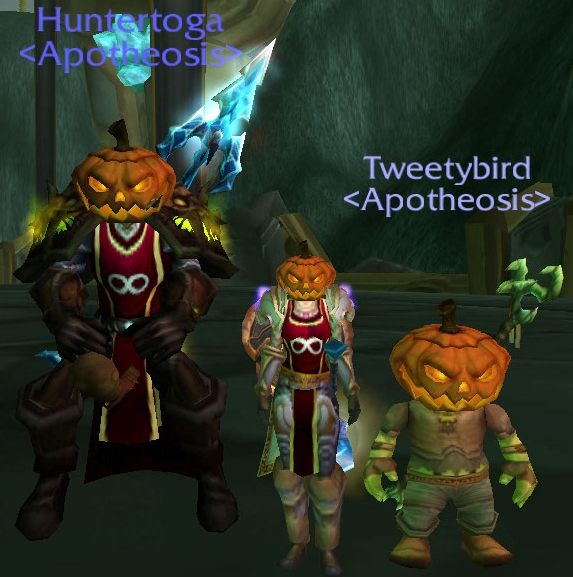 Some awesome people who shared their Hallow's End stories:
@SturgarHawkwind: Just before WotLK hit, during Hallow's End, I tried transferring my main. Got stuck in limbo for two weeks; missed most of the event as well as all of the end of the Scourge Invasion. I still curse myself for not getting a Vampiric Batling.
@Seraph1337: I killed that bastard 400+ times when the mount was a drop. Never saw it until bag loot, and then everyone had one. 🙁
@FFPMMarc: We getting any epic loot from it this year"Hallows End"??
@TiaofET: Isn't that when you me and toga three manned the boss for our pumpkin heads and CANDYYYYYYYYYYYYYYYYYYYYYYYYYYY!!!
@SerrinneWoW: Here's my Hallow's End story: I have 3 headless horseman mounts.
@TikariOfET: One time I was minding my own business in Stormwind, and Kurnmogh pumpkin-headed me.
And here's the Shade of Aran Chant from YTMND:
http://shadeofaranchant.ytmnd.com/
Still pretty awesome after all these years.
We want to hear what you have to say! We want to include your stuff in our brand-new MOLL-E segment! Send us your thoughts, mp3s, bumpers, tips, whatever! Our address is:
podcast [at] blessingoffrost.com
Follow us (and tweet us!) on Twitter:
@kurnmogh and @Majjity for us and then @ApotheosisET for our guild.
Also, please rate us up on iTunes and  leave us a review!
And, finally, Kurn got nominated for a Stopie Award! While Blessing of Frost did not, sadly, get enough nominations for best podcast or anything of the sort, Kurn got nominated for "Loudest Voice on Twitter"! Please head over to vote in the Stopies and vote for Kurn! We also recommend Convert To Raid in the categories they're nominated in — Zhug, Koltrane and the others put together a great show every week. 🙂
Until next time, stay frosty!
Save